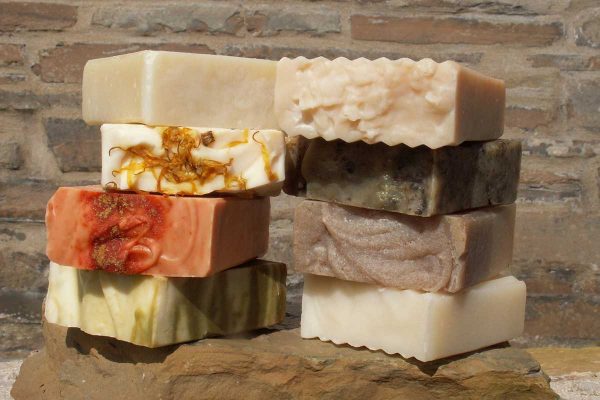 We love this wonderful soap and are delighted to have it at Jackie's House for you to enjoy. These earth friendly, skin loving soaps are crafted by hand in Harray, Orkney, using traditional cold press techniques and the most natural ingredients, carefully selected for their excellence and beneficial qualities. Each soap is poured, cut, bevelled and polished by hand, meaning every bar is unique and will vary a little in size and colour from bar to bar and batch to batch. Each sumptuous soap forms a creamy lather that hydrates and conditions even the most sensitive of skins.
Lots of thought was put into the recipes, and only olive, coconut and castor oils, and cocoa and shea butters, as well as active botanicals, clays and natural pigments are used.  Naturally occurring colours include nettle and spirulina for green, paprika and turmeric for oranges and yellows, alkanet root for purple and lilac, activated charcoal for black and indigo for blues.  The soaps are 100% vegetarian and all but the honey are 100% vegan.
You can buy more lyca.orkney products via their Facebook page, or locally in JB Rosey in Stromness, and Skaill House in Sandwick.